Ants
Pharaoh Ants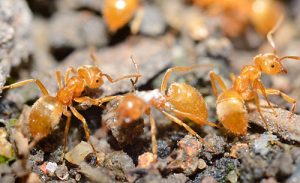 The Pharaoh ant is a small ant, measuring from 1.5 to 2 mm (1/16th to 1/12th an inch) in size.
The workers are all one size (monomorphic). The Pharaoh ants colour varies from golden yellow to reddish. Pharaoh ants originated in and derive from the tropics, meaning they can not survive outside in Canada year round.
Pharaoh ants have a capability to transmit over a dozen pathogens such as Salmonella spp., Staphylococcus spp., and Streptococcus spp. to humans. More of a concern is if this ant comes from hospitals and suddenly enters your home. Pharaoh ants are notorious indoor pests, often unnoticed due to their small size and color.
Family
Hymenoptera/Formicidae
Scientific Name
Monomorium Pharaonis
Biology
Females mate and procreate in the nest, and new colonies are formed by "budding." Budding means that part of the main colony moves to a new location, and there can be up to hundreds of thousands of ants in one colony.
A female produces 350-400 eggs in her lifetime. The entire life cycle is completed in 38 to 45 days. The life span of workers is approximately nine to ten weeks, and queens live four to twelve months.
Behaviour
Pharaoh ants nest in a wide variety of locations within a structure, and are very difficult to control and locate. However, it is useful to look near sources of water and food. They typically nest in warm, hard to reach areas such as walls, splash boards of kitchen counter tops and in wall sockets.
Pharaoh ants prefer meats or greases, but will also feed on sugar syrups and jellies.
Control & Prevention
Pharaoh ants must be treated by using protein and sugar baits placed as close as possible to the nest areas. It is very important not to use any insecticide sprays or dusts as this will stress the colony – causing it to split and spread, and aggravating the problem.
Though they are a tropical species, pharaoh ants are quite comfortable inside temperature controlled buildings in Canada. They are one of the most difficult indoor pests to control. Elimination and control are challenging due to consolidation. Smaller colonies can be formed during extermination programs only to repopulate later.
Need help with Pharaoh ant extermination?
Call Nikol Pest Control at 604-364-3201 for a free estimate.
Pavement Ants
Pavement ants are 1/16- 1/8-inches long and have lighter coloured legs with a dark body covered in stiff hairs. They have two small spines on the back portion of the thorax, and two nodes in their petioles. Pavement ants get their name because they make their nests in or under cracks in pavement. They are black in colour and nest in the soil below the concrete of your home or in the walls. In the winter months, pavement ants often make their way closer to the heat source of the home. They are a very common ant and eat grease and oils but will eat insects and sweet materials as well.
Like carpenter ants, they need water to live, so eliminating standing water supplies is essential. Also, avoid leaving any food remnants, greasy surfaces, or crumbs in and around your home's interior.
Family
Hymenoptera/Formicidae
Scientific Name
Tetramorium Caespitum
Biology
The developmental time (from egg to adult) is 36 to 63 days. Located indoors, the swarmers can emerge anytime. They emerge outdoors in June and July.
Habits
These ants will eat almost anything, including insects, seeds, honeydew, honey, bread, meats, nuts and cheese.
Behaviour
Pavement ants nest outdoors under flat stones, sidewalks, concrete slabs, along curbing, etc.
They invade structures in search of food and are a particular problem in areas where slab-on-concrete construction is prevalent. When inside structures, they nest in walls, insulation, floors, and find their way to heat sources during the winter.
Control & Prevention
Pavement ants are attracted to feeding on sweets. Sugary and protein-based baits are the best ways of ridding your home/building of them. Baits should be placed where ant trails have been established, and in locations where the ants have been sited. When nest cannot be located, a barrier spray treatment should be applied to foundations and the soil immediately adjacent to the building. This is effective in repelling foraging workers, as well as preventing them from re-entering the structure.
How to prevent:
Seal openings around doors, windows and the foundation
Keep food preparation areas and floors clear of crumbs
Make sure your trash cans have tight-fitting lids
Need help with Pavement ant extermination?
Call Nikol Pest Control at 604-364-3201 for a free estimate.
Carpenter Ants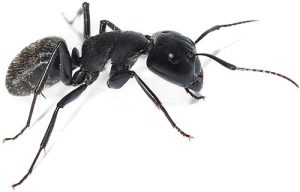 Carpenter ants are the largest of all ant species, ranging from 1/8 to ½ inch long, with slightly larger sized queens. Carpenter ants dig tunnels through wood to build their nests.  Carpenter ants are typically black in color, but some species can be found in red and black, solid red, or brown. Carpenter ants get their name because they excavate wood in order to build their nests.
In Canadian homes, a common invader is the black carpenter ants which, in its natural habitat, aids in the decomposition of dead, decaying, trees. Nesting in logs, stumps, and hollow trees, carpenter ants often encroach into homes in search of food. Rarely tunneling into dry, sound wood, these ants prefer to excavate moist, rotting wood and other soft materials (including foamed plastic insulation board) to build their satellite nests. Carpenter ants are among the largest ants found in North America. The worker carpenter ants can range from 3mm to 13mm in length while the queen may be more than 25 mm (1?) long. Homeowners should look for ants that are foraging indoors and locate their nests by looking for mounds of coarse, stringy wood particles, dead insect parts, and other debris. Typical places to find a carpenter ant nest indoors are: in wood cabinets near dishwashers, hollow doors, fireplaces, in damp locations behind baseboards, window frames, and in basements and attics. Excavated particles get dumped outside the nest, as carpenter ants do not digest wood as food. Unlike termites, carpenter ants' tunnels are smooth-sided and don't contain soil particles or mud. Listen for rustling noises in your walls and ceilings to locate satellite colonies.
Family
Hymenoptera
Scientific Name
Camponotus spp
Biology
Adult winged females lose their wings soon after mating, and all worker carpenter ants are wingless. Mature colonies range in size from several thousand workers, up to 10,000 – 15,000. Black carpenter ants complete their life cycle in roughly 60 days.
Behaviour
Carpenter ants are social insects that are usually discovered nesting in wood. Carpenter ants do not eat wood, but do excavate galleries for their nesting areas. Carpenter ants actively feed at night and the early morning hours, preferring to feed on sugar solutions.
They are commonly found in:
Porch pillars & roofs
Window sills
Telephone poles
Live & dead trees
Rotting logs & stumps
Wood in contact with soil
Control & Prevention
It is recommended that any decaying or piles of wood should be removed from the property. All food items should be stored in sealed containers. Any food spills should be cleaned up immediately. Moist, damp, wood is an attractive environment for carpenter ants to nest in. If you have any leaks or moisture issues in and around the house they should be repaired. All food items should be stored in sealed containers. Pet food should be removed from the floor in the evenings and stored in sealed containers. Eliminate old lumber, logs and stumps from around your property and do not store firewood inside the building. In the case of new construction only properly treated lumber should be used.
Because it is a difficult task to locate and provide treatment for carpenter ants, it is recommended to contact a pest control company to assist in eliminating this problem.
Need help with Carpenter Ant extermination?
Call Nikol Pest Control at 604-364-3201 for a free estimate.